Upcoming Auction
---
Gianguan Auctions March 10th Sale Is An Exploration of Connoisseurship
Saturday, March 10, 2018 (10AM EST)
---
Auction Details: Preview: Wednesday, Feb. 28 - Friday, Mar. 9 (10AM - 7PM EST) | Location: 39 West 56th Street, New York, NY 10019
Please call the office at 212-867-7288 for any further inquiries.
Bid Online: BID LIVE ONLINE LIVEAUCTIONEERS INVALUABLE EPAILIVE View Catalog: View eCatalog Artron View on Mobile
Collectors of Chinese works of art will find Gianguan Auctions', pre-Asia Week sale on Saturday, March 10th, an exploration in connois-seurship. The properties include rare examples of devotional art, historic calligraphy, traditional and modern paintings, ceramics and carved jades. Additionally, highly personal items such as Chinese stone seals, carved jades and Tibetan prayer beads are being offered.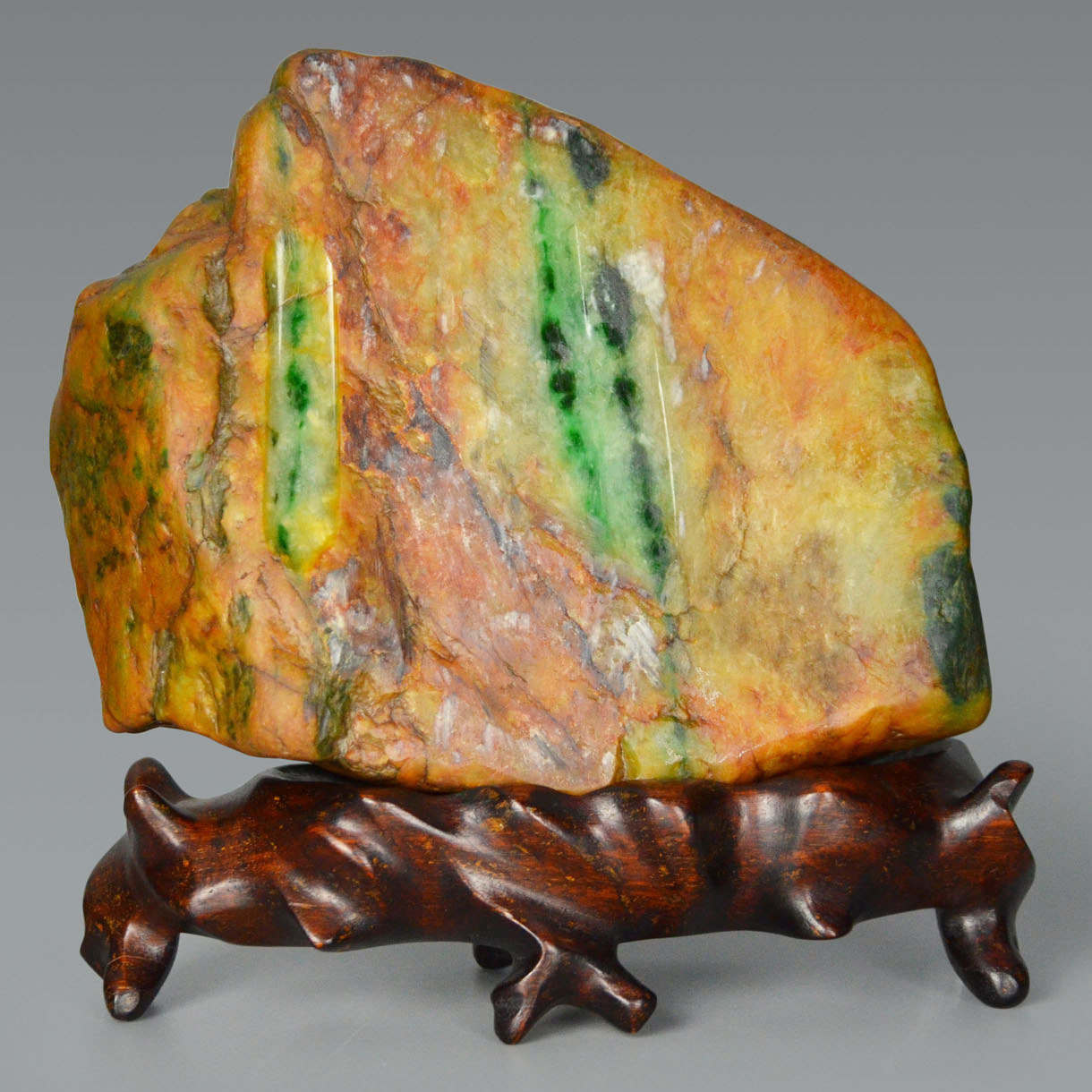 Lot 53, A Fine Scholars' Desk Russet Jadeite Boulder with Stand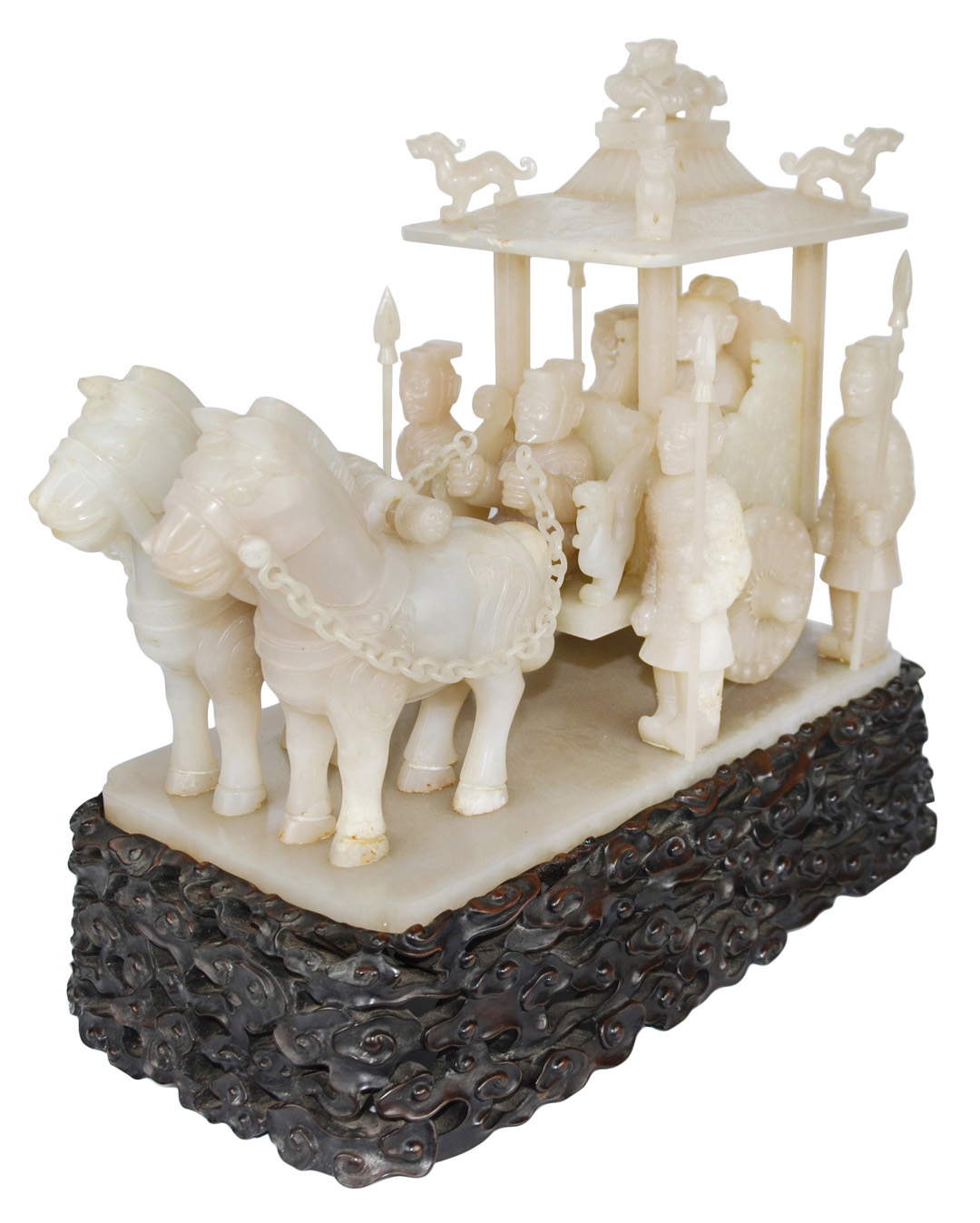 Lot 133, Qin Dynasty, A Superb Yang Zhi White Jade Imperial Two-Horse Drawn Chariot
The marquee item is Zhao Mengfu's "Script Calligraphy of a Poem by Liu Zongyuan, Journey to the East Gate". The nearly one-hundred inch long calligraphy is signed Ziang. It has one artist seal, 10 Emperors Seals, and 19 Collector's Seals. The frontispiece is by Gao Shiqi, with colophons by Pan Zhengwei and Wu Dacheng. Descended from the Song's imperial family, Zhao Mengfu came to prominence during the Yuan Dyansty, which was under Mughul rule. Bidding on Lot 81 begins at $300,000 but is expected to reach as high as $1,500,000 USD.
Among the Modernist paintings, Wu Qingxi's "Lotus Pond Carp" is crafted in smooth brush strokes and vibrant colors that capture the fluidity of the large carp as it frolics beneath a lone lotus blossom that could be symbolic of aspirational desires. Wu Qingxia's works are in the collection of the Metropolitan Museum of Art, among others. Because of the gender disparity in art, Wu Qingxia's works have been undervalued. That may change with the renewed emphasis on women's accomplishments. Lot 39 is estimated at $8,000-$15,000.
Zhang Daqian's "Four Panel Painting of Poet Li Bai," is an expressive portrayal of the solitary pursuits of one in tune with the universe. Sparely rendered, the white robed poet sits, walks, ponders and absorbs that around him, which is reflected in each panel's calli-graphic tribute. Entitled, inscribed and signed Daqian, each panel carries three artists seals. Bidding on Lot 62 starts at $10,000 alt-hough the work is expected to command as much as $100,000.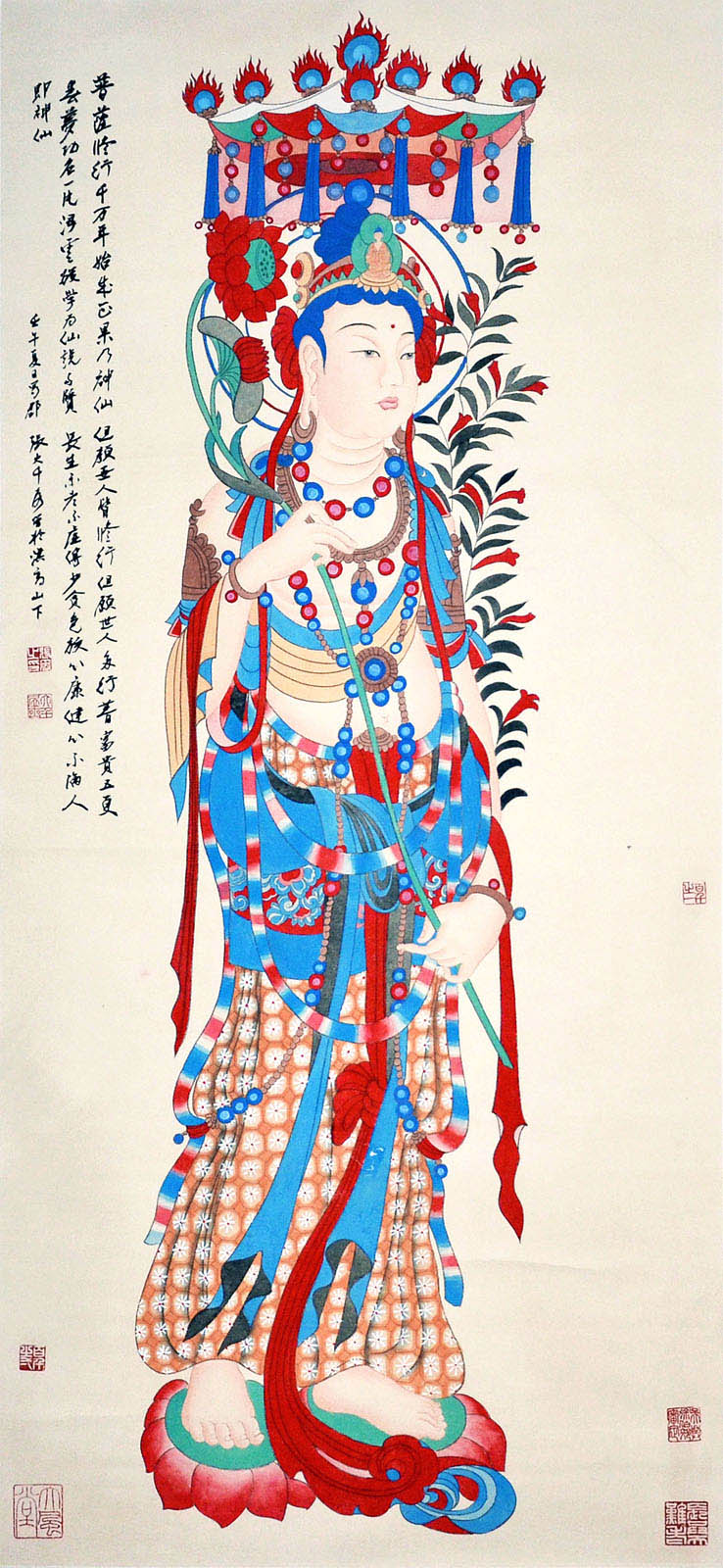 Lot 128, Zhang Daqian
Mogao Grottoes Guanyin
In the hands of mid-century painter Zhao Shaoang, a windswept bough laden with cicadas resonates with symbolic references to rebirth and immortality. "Summer Cicada," dated 1946, is inscribed and signed Shaoang, with two artist seals. It is Lot 63, estimated at upwards of $6,000. Qi Baishi's spare study of a cicada on a bamboo branch is a classic example of the artist's light touch in rendering meticulous detail. An album leaf, the painting is Signed Qi Huang, with two art-ist seals. Bidding on Lot 65 begins at $5,000.

Lot 39, Wu Qingxia Lotus Pond Fishg
A jade boulder from the MIT Museum collection, originally sold at Christie's in June, 1994, makes its stand at Lot 53. Of fine mottled russet jadeite, it has three incised windows through which gleam bright patches of the vibrant emerald stone. Of irregular form, the five pound stone carries a pre-sale estimate of more than $150,000.
The leading figurative carved jade is a two horse drawn chariot of pristine Yangzhi white. Of the Qin Dynasty, the 9 inch tall sculpture is carved and reticulated to deliver a commanding homage to the Emperor's carriage. Seated under a turreted canopy that bears the royal insignia, the seated figure is guarded by four spear bearing warriors. The charioteer handles chain linked jade reins. The yoke, crossbar, wheel hub, sideboard, spoke and drawbar are all highly detailed. The scene is fitted on a wooden ruyi carved base. Lot 133, the two-thousand year old work of art is expected to fetch upwards of $50,000, with $1,800,000 being the top estimate.
The silvery glow of hammered bronze overlaid with white slip and polychrome gives a pair of Tang pottery court ladies a very special glow. Dressed in long flowing robes embellished with a floral medal-lion of circling phoenix and birds, one holds a song bird in her hand while the other modestly conceals her hands within the sleeves of a robe. The condition is excellent, the remaining pigment appropriate for its age. This is Lot 109, having an opening bid of $200,000.
With devotional art an integral part of the Chinese ethic and highly popular among western practitioners of Buddhism and yoga, the sale would not be complete without exceptional offerings. Among these is Lot 151, a Tang, gilt copper volume of the Pratyutpanna Sutra (Vol. 3). Finely incised in clerical script, the etched sheets are bound by hinges as an album and housed a rectangular box carved with Maitreya on the cover. More than 63-inches long, the 22-inch tall volume is valued at more than $30,000.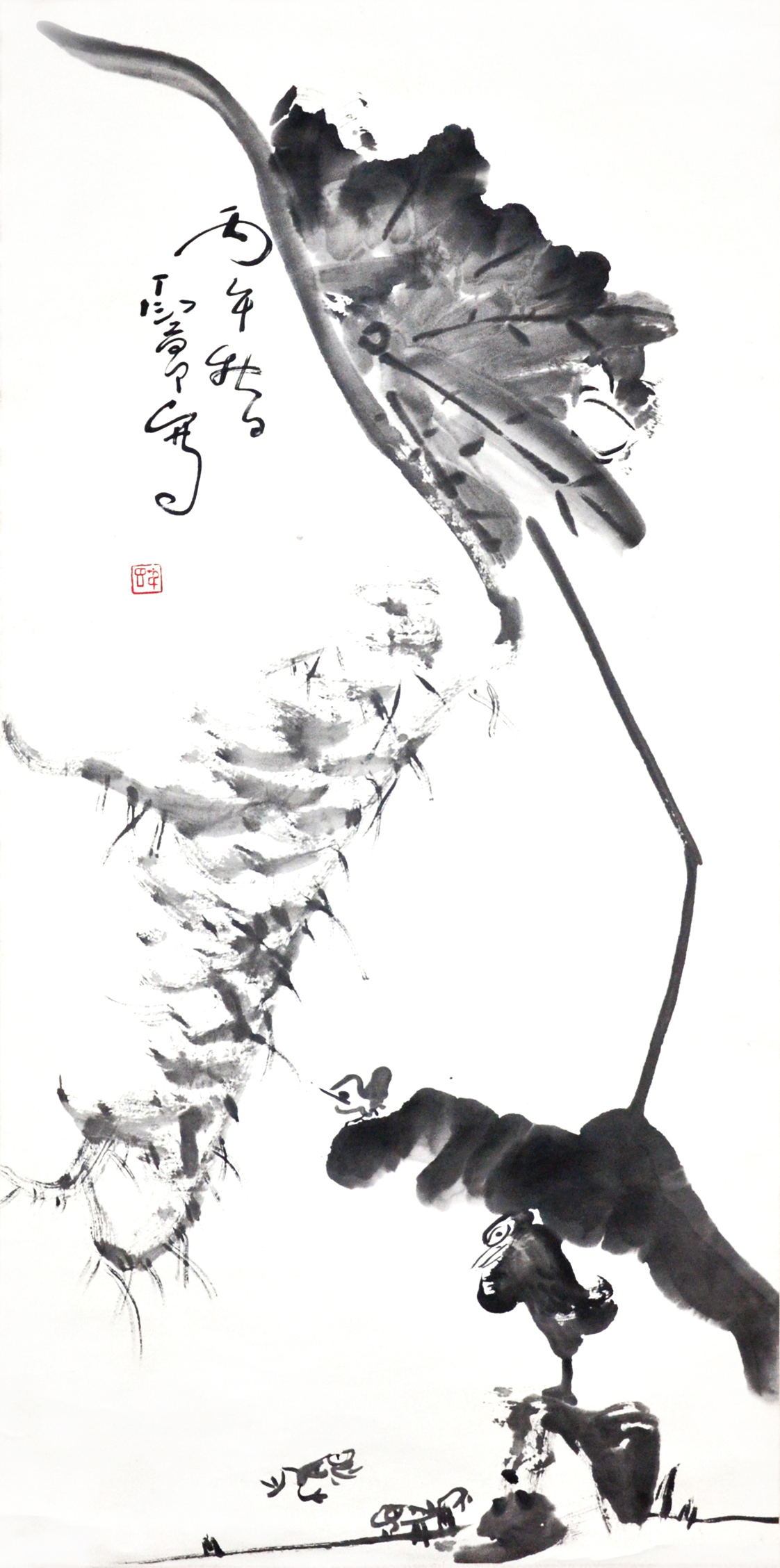 Lot 109, Tang Dynasty, Two Very Rare and Fine Pottery Polychrome Painted Court Ladies Cast in Silvery Bronze
Of the Sui Dynasty, a free-standing, gilt bronze altarpiece with seven branching Buddhas surround a central figure of Buddha Maitreya who sits atop a lotus throne. Similar to pieces in the Boston Museum of Fine Art and the Metropolitan Museum, the dramatic piece is in the style of the Great Tower of Ashoka. Here the central Maitreya is seated in dhyanasana with hands in karanamudra and has the appropriate well formed face with serene gaze. It is flanked on each side with a Bodhisattva and is positioned before a flame shaped aureole. A remarkable example of devotional art that may well have a meditation of its maker, the altarpiece is Lot 82, with a market value that falls between $20,000-$100,000.
Meanwhile, a remarkably detailed Northern Wei Dynasty Buddhist stele with pointed arch offers a meditation on a standing Buddha flanked by bodhissatvas guarded by dragons. All are backed by a flaming mandorla under an ogee that ascends amidst flying apsara. At the uppermost point is a stupa, the metaphor for housed relics or blessed remains. The Buddhist stele is reminiscent of items in the collection of the Qingzhou Museum that were excavated in 1996 at the Longxing Temple of Qingzhou, in Shandong Province. The 29 pound carving is Lot 184, valued at about $80,000.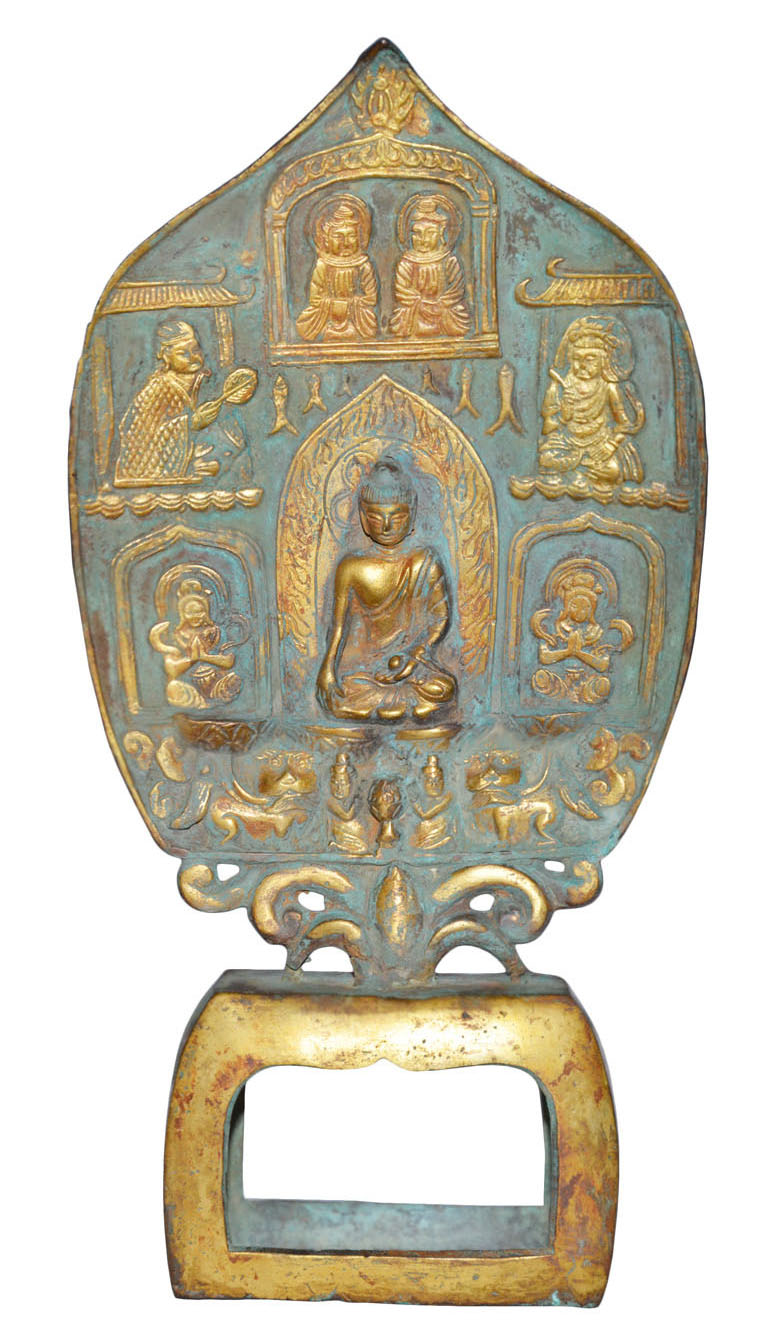 Lot 226, Northern Qi, A Rare Dated Gilt-bronze Buddhist Votive Shrine
Highlights of the porcelains feature a Qing Dynasty crackle glaze Ge Yao vase. Its spherical body is finely potted and rises to a long neck flanked by tubular handles at the rim. The unusually sleek design is given a tactile edge by the 'iron wire' technique that delivers an irregular crackle across the body. Lot 191 is 6-inches tall and estimated at upwards of $50,000.
Known for its collections of Famille-rose, Gianguan offers a bottle vase with clusters of roses kissed by butterfly. The luxurious scene is an example of the consummate skill of the Yongzheng potters. Of the Qing Dynasty, it bears the Yongzheng six character mark with a double circle and is of the period. At 16-inches tall, Lot 172 is ex-pected to find interest at more than $20,000.
A counterpoint is the unusual Ming blue and white with copper red dragon vase with garlic heard. Two dragons frolic on the bulbous body on a ground of penciled, turbulent waves in graduated tones of cobalt blue, a technique characteristic of the period. At the top of the long neck, a copper red dragon sweeps upwards to culminate that garlic head opening. Lot 246 is 11 inches tall and positioned to find its collector at as much as $100,000.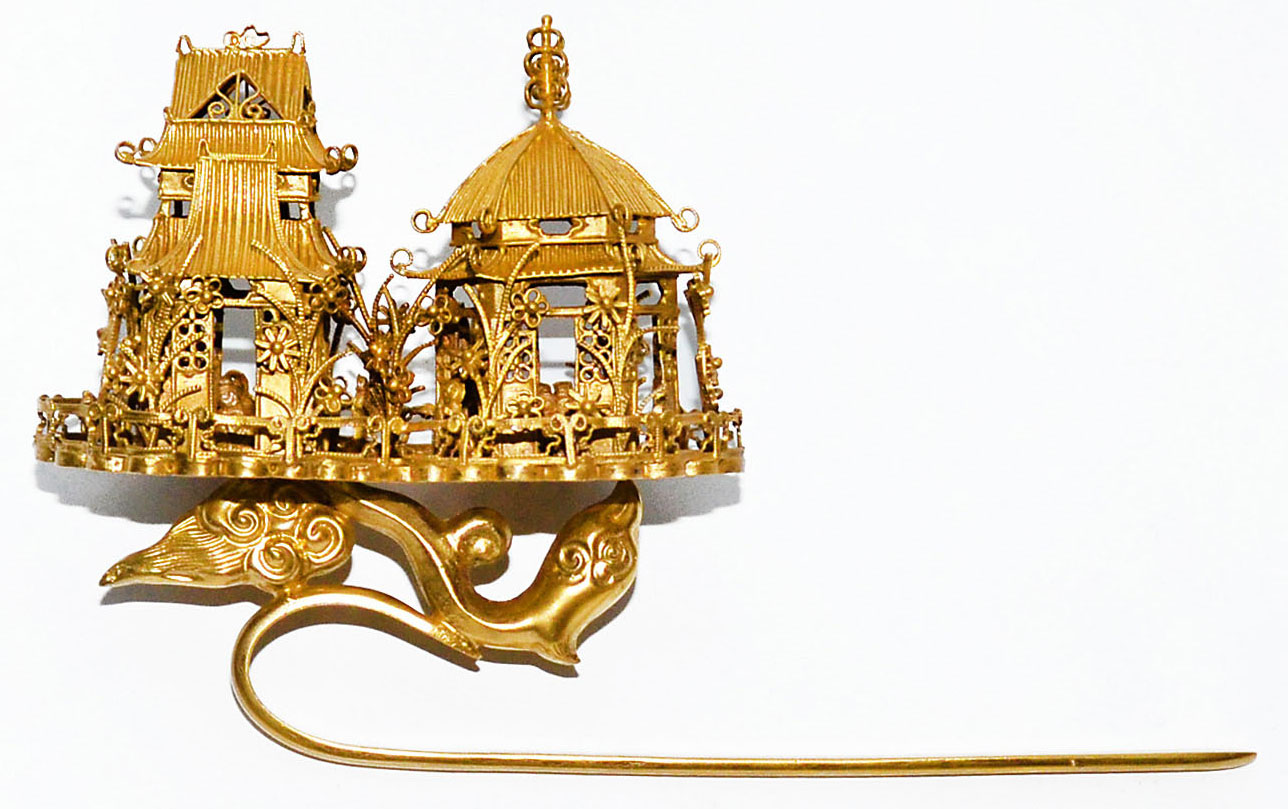 Lot 163, Ming Dynasty, A Fine and Rare Gilt Silver Filigree Hair Ornament of Delicate Design
Anchoring the auction is a collection of seals. Outstanding among these is Lot 108, a set of six white jade seals with elephants knops and characters in Zhuanshu script the deliver words of wisdom. The set is attributed to Emperor Kangxi. Housed in a fitted zitan box, the set is a rarity that will find interest in the midrange.
Other seals of Shoushan, Furong, Malachite and Tianhuang have knops cleverly designed with an amphora bottle (Lot 92) or Louhan holding fans (Lot 93), traditional qilin (Lot 98), even the occasional snail (Lot 94). Values run from $300 upwards.
For details on these and other properties in Gianguan Auctions' March 10 sale, please see the online catalog at www.gianguanauctions.com. For condition reports, please call the Gallery Director at 212-867-7288 or email info@gianguanaucitons.com. Gallery previews begin Wednesday, February 28 and continue through Friday, March 9 (10AM-7PM EST). The auction starts at 10 a.m. on Saturday, March 10 and will be online at www.invaluable.com, www.liveaucitoneers.com and www.epailive.com.