Upcoming Auction
---
Gianguan Auctions Presents its Asia Art Week Sale
on Sat. Sept. 18 at 10AM
Saturday, September 18, 2021 (10AM EDT)
---
Preview by appointment | Location: 429 West Broadway, New York, NY 10012
Please call the office at 212-867-7288 for any further inquiries.
Bid Online: BID LIVE ONLINE LIVEAUCTIONEERS INVALUABLE

Lot 12, Qing Dynasty, Tianhuang Seal with Buddhist Lion and Cub Knop

Lot 52, Sui – Tang Dynasty , An Exceptional and Rare Jade Shakyamuni with Flaming Mandorla
This 20th anniversary sale features traditional and contemporary master paintings, carved jades, fine ceramics, Yixing teapots, bronze and Buddhist sculptures. The online auction starts at 10 am, EDT. Headlining with an Imperial Seal of Emperor Qianlong, a celadon jade seal housed in a Zitan box with an embellished jade medallion, is star Lot 9, of square form, surmounted by a ferocious recumbent dragon, powerfully depicted crouching on its haunches with finely detailed horns, back and tail and bulging eyes mand flaring nostrils. The seal face deeply and crisply carved with four characters: Qianlong Chenhan, transcribing to: The Calligraphy and Painting of Qianlong Emperor, with each character evenly spaced and proportioned. The stone is of celadon tone with brown opaque mottling and darker speckling. Est. $20,000 - $25,000
Equally striking is Lot 12, another Qing Dynasty, Tianhuang Seal. Carved with Buddhist lion and cub knop, the square seal is inscribed on four sides each with an auspicious emblem amidst flowing clouds. Surmounted by a well-carved seated lion with its head turned back towards its cub playfully escalading its back and playing balls. The stone of golden honey hue tone with a lustrous sheen. The seal face is uncarved. Est. $10,000 - $15,000
In the long history of Chinese ceramics, Song Longquan ware decorated with iron red is famed for its rarity. Lot 50, Well potted with a ompressed globular body rising from a splayed foot to a slender neck ending in a garlic head mouth with three raised rings. The body is covered overall with a lustrous glaze of pea-green tone and decorated with nine lifelike underglaze-ironred fish, swimming. Arranged on parallel bands, these iron red fish were painted with a brush before firing, three fish on the garlic head, three on the shoulder, and three on the body. Creating a striking visual impact on the otherwise subtle celadon surface. The juxtaposition of these two contradictory elements, a subtle celadon green and an emboldened iron red was a bold experiment, yielding a harmonious outcome. Estimate $30,000 - $40,000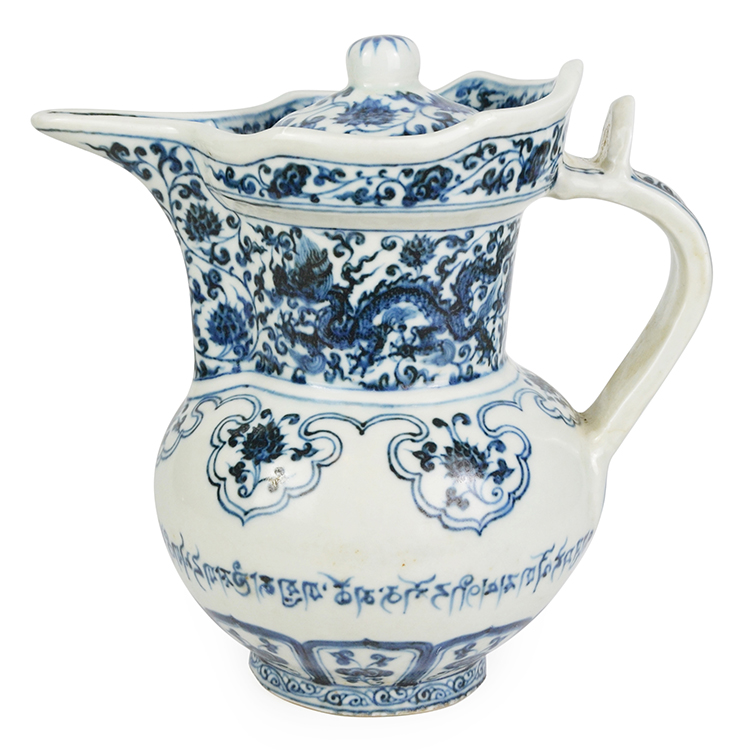 Lot 81, Ming, a Fine and Rare Blue and White Monks' Cap Ewer, Sengmaohu
Highlights of the ceramic collection is Lot 81, A Magnificent Ming Dynasty Fine and Rare Blue and White Monks' Cap Ewer, Sengmaohu. Monk's-cap ewers were used in ritual ceremonies of the Lamaist sect of Buddhism. The pear-shaped globular body painted in vibrant cobalt with six lobed medallions of ruyi enclosing floral branches, with a tapering curved spout which projects from the galleried rim and outline painted with floral sprays, the peak of the rim rising above a small lug on the interior and beside the curved strap handle molded with a median ridge and painted with further floral sprays, the domed cover of conforming shape painted in similar fashion beneath the knop finial, resembling a monk's hat. The waisted neck is finely painted with two confronting dragons amidst a lotus meander. Below the ruyi medallions is a continuous frieze of lanca characters. A floral scroll band encircled above the foot. Applied overall with a transparent unctuous glaze, save for unglazed ring on the base revealing the buff body, with reign mark on the underside. This remarkable blue and white porcelain is now offered with an estimate of $40,000 - $60,000.

Lot 34, Qing, A Pair of Rare Cloisonne Enamel Octagonal Dragon Vase Zun
For monochrome connoisseurs, the Song Dynasty Dingyao exquisite collection offers Lots 106 - 111, with subtle monochrome-glazed from ivory-white to a dark reddish purple, each of these molded plates is decorated with dragons, phoenixes, mandarin ducks with scrolling sprays and key fret borders, and are timeless with affordable estimates from $2,000 to $8,000
Buddhist and religious statues include an exceptional and rare Sui – Tang Dynasty, Jade Shakyamuni with Flaming Mandorla. Lot 52, Carved in high relief seated on a double-lotus throne, framed by a flame-shaped mandorla. With loose robes draping the body, the right hand raised in Abhaya mudra and left hand in Varada mudra, the face with a meditative expression beneath the domed ushnisha, framed by long pendulous earlobes, an arch-form nimbus radiating behind the head, flanked by five bodhisattvas seated. On the back of the Mandorla is another carved Bodhisattva seated and draped in loose overlapping sashes. Est $10,000 - $20,000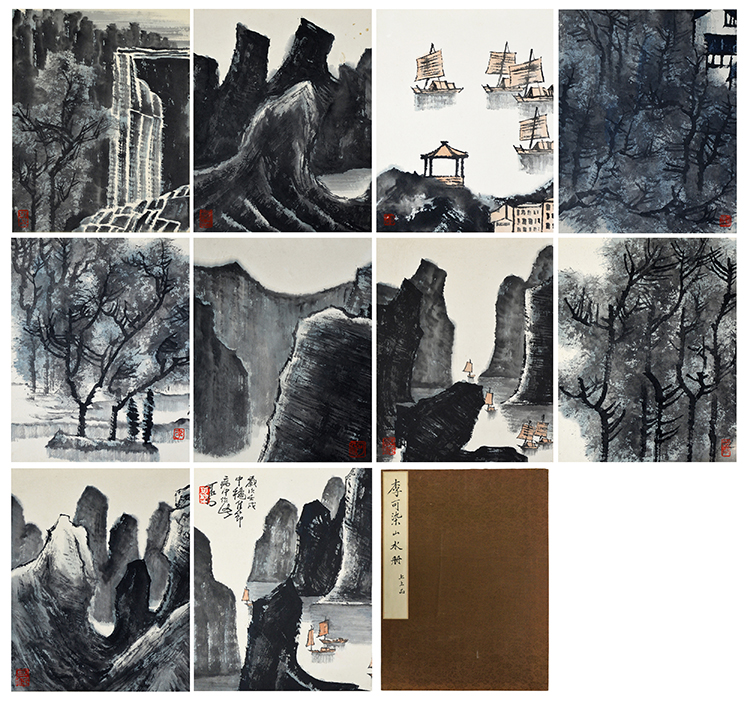 Lot 56, Li Keran Landscape Album, Ten Leaves
Cloisonnécollectors will find its Qing period intricate workmanship and patterning in a rare pair of octagonal dragon vase, Lot 34. Statuesque at 37.5 cm height with four square sections and canted corners, supported on a high flared foot, and surmounted by a waisted neck of the same section, brilliantly decorated in bright cloisonne enamels on a turquoise-ground, the four sides each with a ferocious five-clawed dragon in pursuit of a 'flaming pearl' amid swirling multi-colored clouds and above foaming waves crashing against rockwork and floral sprays, their sinuous bodies vividly captured in various poses, the corners decorated with stylized lotus blooms, archaistic scrollwork and bats, the foot with archaistic scrolls enclosing lotus blooms, and the neck decorated similarly with archaistic scrolls and bats. Est $30,000 - $50,000
Mentored by Alice Boney, Robert Hatfield Ellsworth went to China in the early Nineteen Seventies and purchased modern Chinese paintings including traditional masters, bringing them to the western art world. One of these scroll is Lot 87, Ming Dynasty's Wu Weiye's Visiting Friends with Qin, Dated 1647, this fluent and energetic landscape painting was in the collection of Liang Qingbiao, himself a known scholar and calligrapher before it passed on to Ellsworth. Est $15,000 - $20,000
A contemporary artist, Li Keran embarked on a trip south of the Yangtze river and started a new landscape painting method of using brush and ink to record the actual landscape, closely observed. Incorporating his training in wester art scientific principles and Chinese ink and brush techniques, he experimented the layered ink method and painted landscape in realistic manner and grasping the light perception. Dated 1982, he made the Ten Leaves Album of Landscape, Lot 56, that became a hallmark of his mature style and celebrated work. Est $50,000 – $80,000
And the Neolithic period, Hongshan culture distinctive carved jade workmanship is displayed in Lots 73 – 79. These archaic jades have long been considered as a symbol of royalty with historical significance. Leading the collection is a Warring States carved Eagle in Twin Parts as Token of War Decree, Lot 76. This token was used by the emperor granting his general to dispatch the army. The right talisman is kept by the emperor and the left is handed over to the general leading the soldiers. Est $8,000 - $10,000
While these highlights offer the flavor of Gianguan Auction's Sept 18 sale, collectors and curators, dealers and decorators will find many more important and accessible treasures, including lacquer, bronze, stone seals and jade carvings throughout the sale. For a look at the complete catalog, please visit www.GianguanAuctions.com. Bidding is online at the liveauctioneers.com. For inquiries, please contact the gallery at info@gianguanaucitons.com or 212-867-7288.